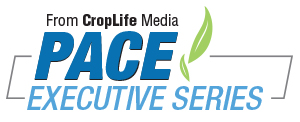 Building Blocks for a New Ag Value Chain
From emerging and evolving consumer preferences downstream to changing farmer demands upstream, the agriculture value chain is undergoing rapid transformation. The impact of the pandemic revealed both vulnerabilities and opportunities for stakeholders who are battling to maintain relevancy within the new ag value chain.
CropLife Media will preside over a series of online learning and networking opportunities and special reports as part of its PACE Executive Series. Programming will continue regularly through 2021, leading up to the launch of the PACE Executive Forum, October 25-27, 2021 at the Marriott Country Club Plaza in Kansas City.
Register now and get notified when the Retail 2025 Special Report is released!
You will also receive a password to the past recorded sessions.
SESSION #1


The Impact of Consumer Preference on the Food and Ag Value Chain
Presenters: Rob Dongoski and Jonathan Phillips, EY
Recorded 10/27/2020 • Length: 2:15hr
SESSION #2


Trends and Disruptions: The Farm Economy and the Next Decade
Presenter: David Widmar, Agricultural Economic Insights
Recorded 12/3/20 • Length:2:00hr
SPECIAL REPORT


Retail 2025: Keys to Long Term Viability in Ag Retail
Digital Release on January 4, 2021
SESSION #2 – RECORDING NOW AVAILABLE


Trends and Disruptions: The Farm Economy and the Next Decade
December 3, 2020
A sluggish U.S. farm economy has struggled through a trade war and global pandemic, but many questions linger about 2021 and beyond. How will producers and production agriculture sort through sector trends and disruptions the next decade might have in store? This session will present the key questions and underlying data to consider, followed by a panel discussion of potential implications for the agricultural business that support producers.